I think I'm at a stage in this blogging business where I am reasonably happy with what I am doing here and I'd like to share, get a few followers and generally get "Learning Lessons in Mummyography" out there... Up until now I have been REALLY shy about the whole business and only really been writing for me. But no more!
So here I am attempting a "blog hop". Here we go...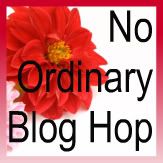 So bring it!!!! Hoards of new adoring followers inundate me with comments... GO!!! I mean it... GO! Oh... Go on... Just a few new faces... Or one...? Please...? Pretty please? Reckon my Mum would follow me if I emailed her?